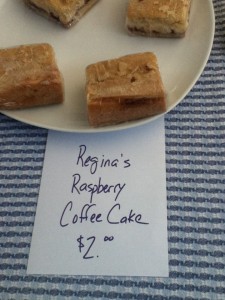 If you're hungry for some really, really good baking, look no further than The Haymarket Cookie Lady!  T's Pet Sitting (my husband and I) took a trip to Lincoln today to visit our friends.
Baked with love, skill and the best ingredients her cookies, cakes, baklava, brownies – EVERYTHING tastes better than anything else! My husband, Bill, LOVES the brownies. We shared an Oatmeal Raisin cookie that put to shame any other that we've ever had before.
Add to that she and her husband are the nicest people you'll ever meet!
It is well worth the drive to Lincoln on Saturday to the Haymarket Farmers Market (8:00 a.m. to 12:00 noon). Look for the red train car – you'll be glad you did –  guaranteed!
Click here to go to The Haymarket Cookie Lady's Facebook page.