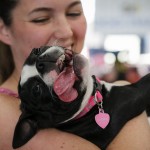 Read a couple of our current testimonials from happy clients and please leave your comments, thoughts and review below!
We strive to provide the kind of service that leaves you thrilled, happy, overly satisfied and wow'd in every way.
Professional, thorough, and thoughtful. Didn't have any problems at all with my special needs dogs, and loved by both dogs. Work well for long term as well as short term needs, they are highly flexible. ~Michael
My Fab Four Boxers love it when you come over and take care of them! ~Kris
I came home to four happy cats! You exceeded my expectations! Thanks! ~David
Wonderful and loving! ~Kathy H
T's Pet Sitting is the best! Teresa takes such good care of my "fur babies!" ~Mike & Molly's Momma
We thank you so much for taking care of Tory – she really enjoyed her times with you. You certainly have a gift and we are so thankful you came into our lives.
-Jill, Susan & Mike

.
Average rating:
5 reviews
Nov 21, 2021
Outstanding Service
Teresa does an amazing job with our cats. She is reliable and professional, and has bailed me out on several occasions when I forget to let her know until the last minute that she is needed. She often goes the extra mile by staying to play with our cats after they eat and always leaves homemade cat toys, which they love. I couldn't recommend this company strongly enough!
Dec 29, 2017
Put my mind at ease
I HATE traveling and never think anyone can take care of my kitties as well as I can. Every other time I hadn't been able to stop worrying. We finally found our perfect fit!
Everything looked exactly the same as we left it at home (for over a week). The daily texts and pictures put my mind at ease I was able to enjoy my time away. Teresa and Bill are absolutely perfect. They even took care of the milk I left in the fridge. When we came home I found the cutest thank you note and a catnip mouse for each kitty. I couldn't have asked for anything more.
Thank you so much Barbara! We enjoyed our time with all the kitties. They are a fun pack with great personalities!!
Jan 18, 2016
Very professional and outstanding service! Chloe and Sammy, our two kitties, were well taken care of. We received daily updates & pictures during our absence. Highly recommend and will use again!
Nov 12, 2015
GREAT Service!
We have been using Teresa's services from the very first week we brought our puppy, Finn home. She's so reliable and our pup adores her visits. Teresa was more than happy to help out when Finn needed extra visits after being sick and recovering from surgery. Knowing that Teresa will come each day to check on Finn makes me more at ease when we have to leave for work each day. We recommend her to everyone we know with pets.

- Brittany, Dan, & Finn
Oct 27, 2015
Val
I scheduled Teresa about 3 weeks before we had to move our daughter out of town. The week of the move, our older cat, Abby, developed a life-threatening illness and which required her to receive 3 pills a day. I think giving a cat one pill is very daunting.



Teresa handled it all with finesse and patience (and that was in addition to dealing with our other cat who is diabetic).



In essence, Teresa helped save Abby's life and we are very thankful.



T's Pet Sitting ROCKS! We are very thankful.